App IdeA
App IdeA

 4CATION
The core of the app idea are interest groups and interest groups which are built up and expanded through 4CATION. People can be found quickly on specific topics and meetings and events can be organised. 
The aim of 4CATION is to connect people and this is how it works:

After downloading the app, a profile is created. The more detailed the profile is filled out, the more hits will be found when searching for common interests.



In the search process categories are selected to find interest groups and to contact the group.



Via the app, group members can easily participate in meetings and get to know people with similar interests. 



The meeting points are clearly marked with date, time and location.

At the meetings you do not only meet like-minded people. You can also experience new things, be creative or pursue your favourite hobby and meet new people.



With 4CATION, events for interest groups can also be planned and coordinated.



In this way, people outside the interest group can also take part in events and, for example, become later group members.

Communication in interest groups is greatly facilitated by the app. Group members can use the chat function in the groups to communicate with each other and also make new friends.



ADVANTAGES
Benefits of 

4CATION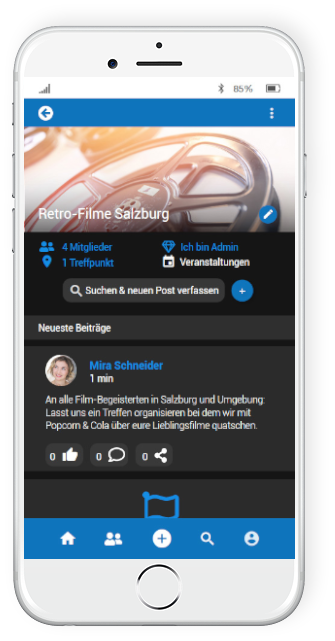 Arranging meetings
With 4CATION, local events can be organised for various favourite activities of interest groups, which take place close to the users without a long journey to and from the site.
Getting to know people
Getting to know people with same interests is made easier and it is much quicker and simplifies the communication with each other via the app.

sharing interests & Creating Freetime
Through 4CATION, communities are formed around a wide range of topics and there are many new leisure opportunities for users.

No FAKE  + but Star rating
No fake profiles can be created and every user can rate others (comparable to Uber) - but only positively by means of a star rating. In this way, good and reliable leisure partners can be found more quickly in the app.

FUNCTIONS
APP FEATURES -
4CATION
4CATION is easy to use, not least because of the following integrated functions.

Search function
Using predefined categories and the search field, you can search for specific interest groups and find them near by.
Organisational function
The meeting points of the group members are listed in detail. With a few clicks you can see where & when the meeting is taking place. The organiser can provice enough details - what to bring, for example. Also the location is shown exactly thanks to the integrated map, so that every participating group member can easily find the meeting point. Similarly, own events can be created just as quickly.
Chat function
Users can easily exchange information on topics and meetings via a chat function without having to create separate What's App groups.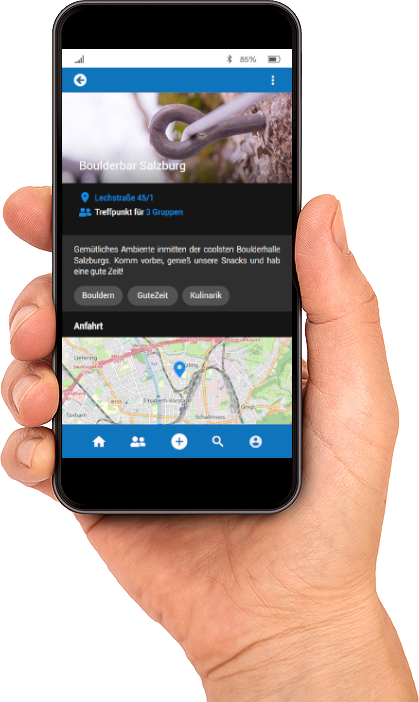 Meeting point
Every user has the possibility to designate a place or location as a meeting point. The owner or proprietor of a location can now highlight the meeting place by registering for a fee. Then he has the possibility to link his homepage and upload pictures to promote the location. 


Each meeting place also has a calendar where events can be entered. Users have the possibility to register for an event, as guest or as staff. Now other users can see who is there, was there or will be there in the future. Users also have the possibility to get in touch with other users they have met or seen.

Through star voting, the person who receives a friend request knows what kind of person they are dealing with.
Here you have the opportunity to get to know people after you have seen them somewhere.

Interest group
Communities of interest are pages on which specific information can be viewed, such as hobbies that the user has already indicated in his or her profile. In this way, every user gets the information he or she needs. This is also where the meeting places link to the communities of interest. Each meeting place can link its events to the corresponding interest groups and advertise them for a fee. 


Every user has the possibility to add his interests as his personal favourites.

If someone moves to a new area, he or she can get to know other users with the same interests on the basis of their interests and simply get in touch with them. 

Calls for help can also be sent via 4CATION and helpers from the surrounding area can then respond and help. 


By pressing the yellow button, a field opens asking what help is needed. For example, carrying a washing machine to the second floor. Now the person calling for help can send the help to the public or only to friends. Under the help button there are again 5 asterisks. Those who receive help can thank you with a star.

In this way, people in need of help, sick, elderly or single people can be helped and rewarded with a star. Anyone who receives a friend request and sees how helpful this person is will of course be much more likely to accept it than someone without a star. 

Users can communicate with each other here. Communication can take place via audio and video telephony. But it should also be possible to share pictures, status pictures/videos. 


In this way, users from the interest group can also participate in the everyday life of the users.

Use Case
Mira is 25 and is studying media science. She works in a café on the side, is sporty and enjoys reading books. Since she hasn't been in the city for long, she wants to meet new people who have similar interests to hers.
Mira has heard about an app that can help her do that. 4Cation. She downloads the app and starts it. At the beginning different interests are asked. Mira chooses movies, books and hiking - she loves to go hiking.
Afterwards she comes to the app's home screen. Here she is shown relevant results in the newsfeed - from new films in the local cinema to pictures from the Gönner-Alm on the Gaisberg, which is not far away.
Originally, Mira wanted to meet new people. That's why she is looking for interest groups (= communities) that are also involved with films, books or hiking. For this she types into the central search field "group hiking". Her interests are already pre-selected, she could also add others. Results appear, sorted by distance. She joins the group "Wanderparadies Salzburg". Here she is shown the feed of the group again. She can also communicate directly with the members. The group also has meeting points where the participants meet regularly. Some of the meeting points place small advertisements directly in the group. Tuesday evening the next meeting takes place in the boulder bar. Great, Mira will participate there right away. 
In the meantime Mira likes to use 4Cation very much. She has decided to create her own interest group with new study acquaintances. The topic is retro films. To do this, Mira opens 4Cation and clicks on the create icon in the footer. Here she creates the group and sets up the café of the local cinema as a meeting point. At this place she notices that some events will take place. Interesting. Then she invites her friends to join the group, some of them are already with 4Cation, others will receive an invitation email. Mira has thus created her first group and is looking forward to entertaining evenings with her friends.
App Screens
App Screens -

 4Cation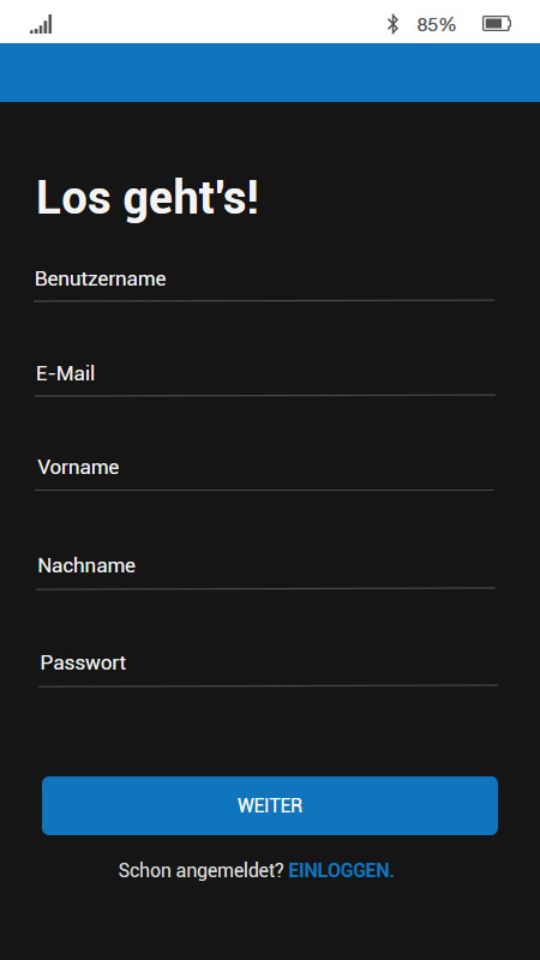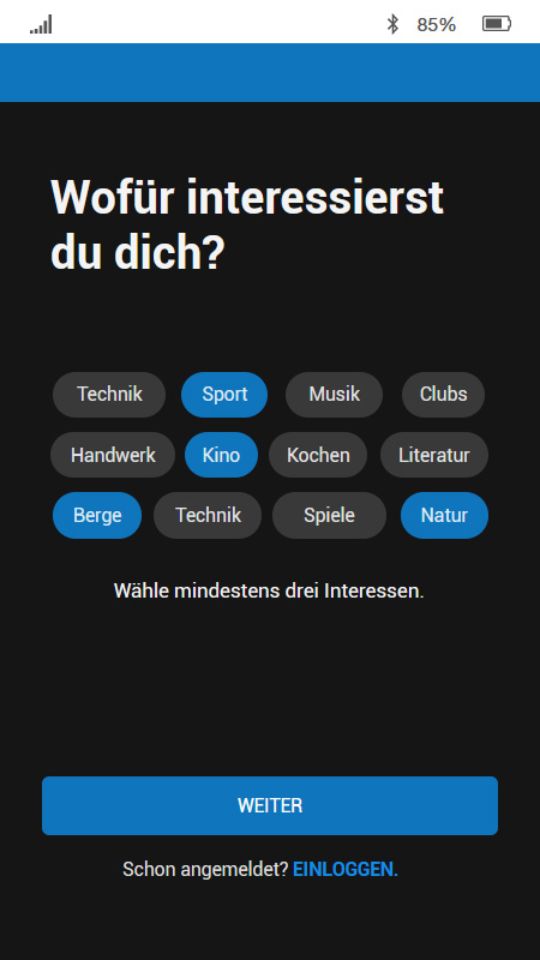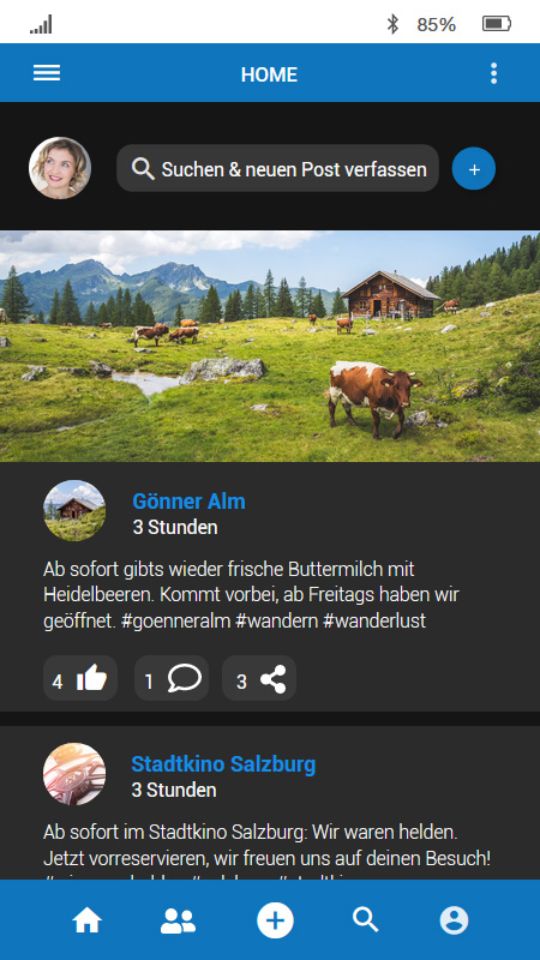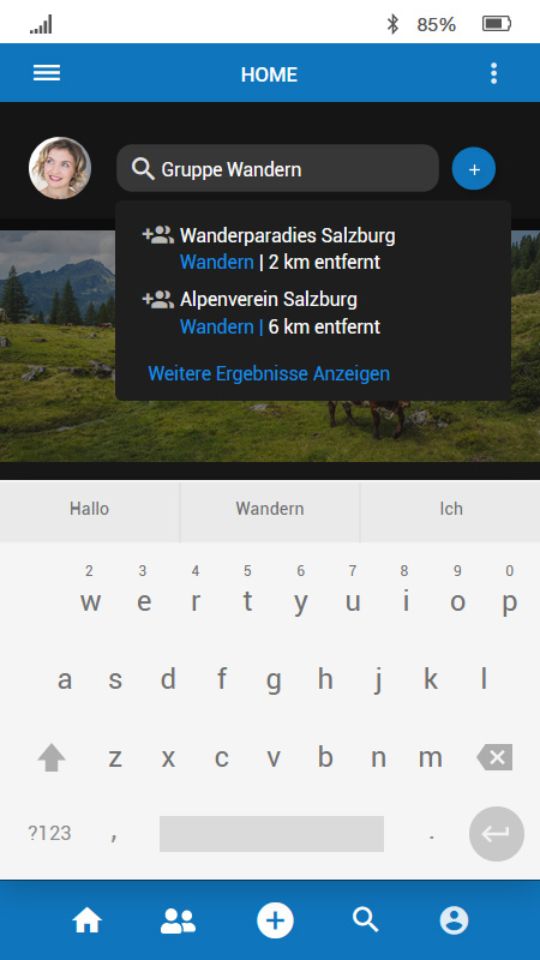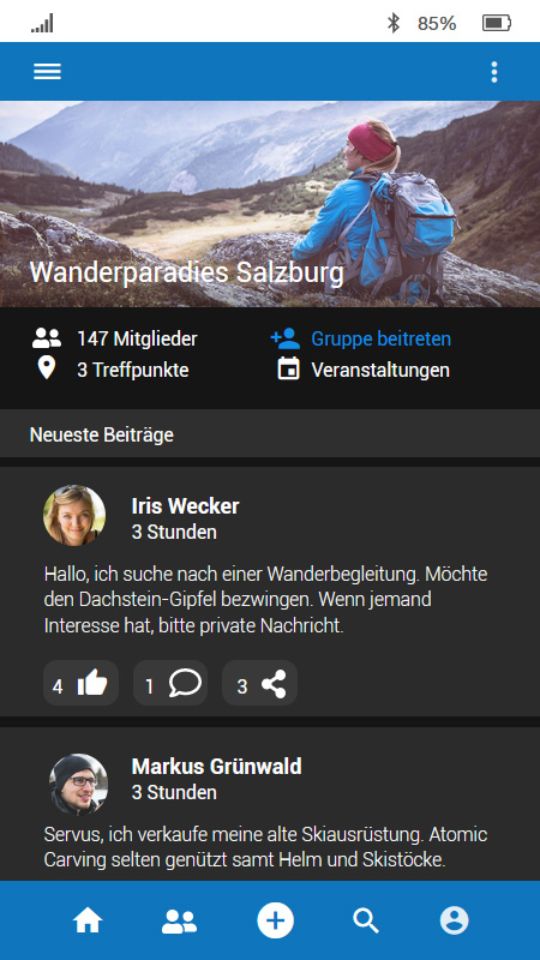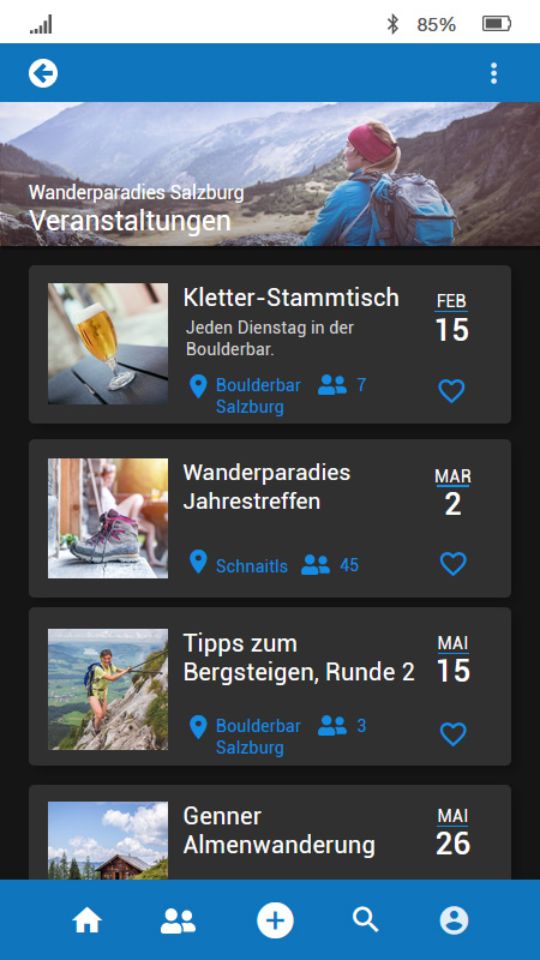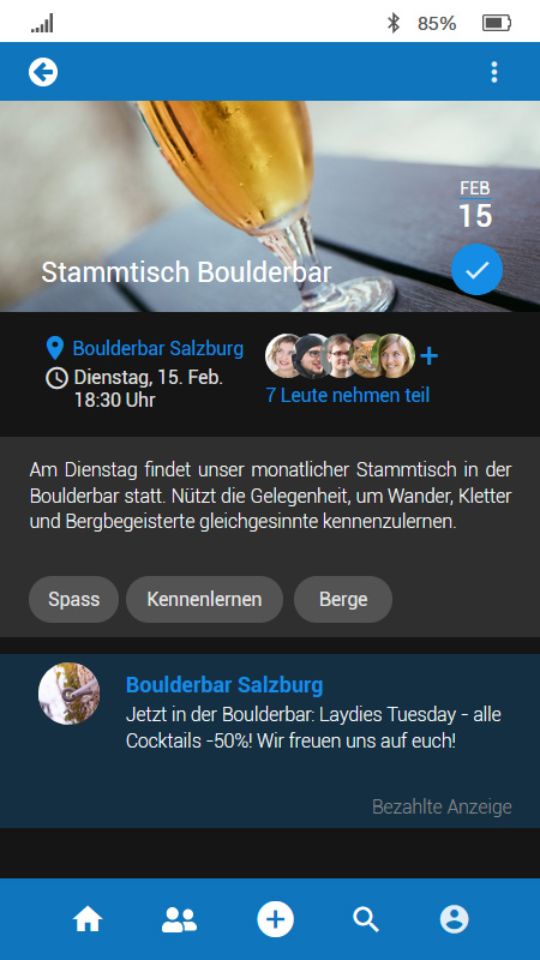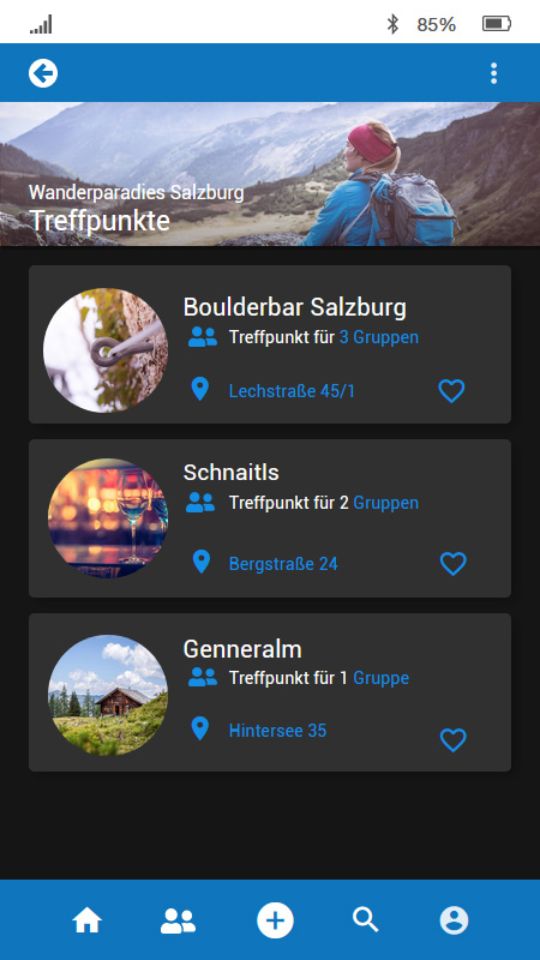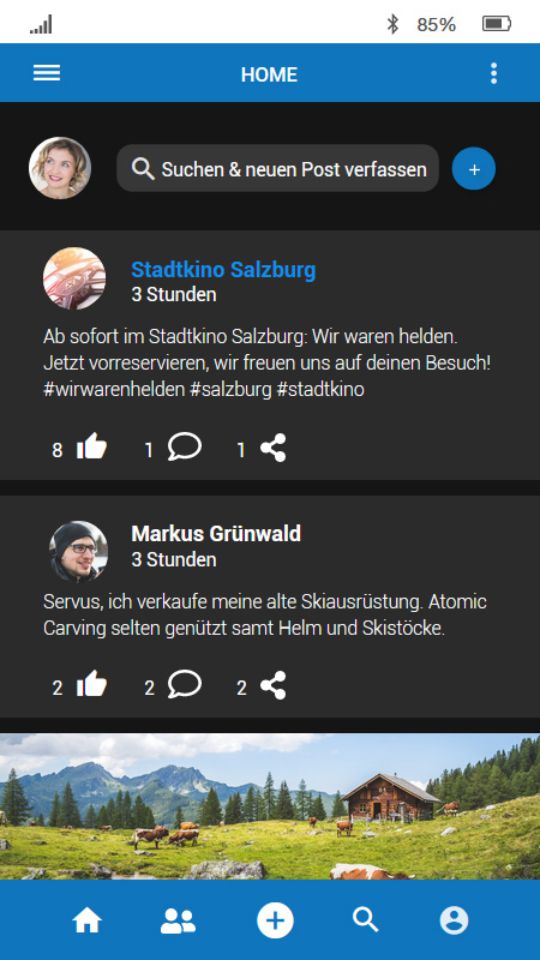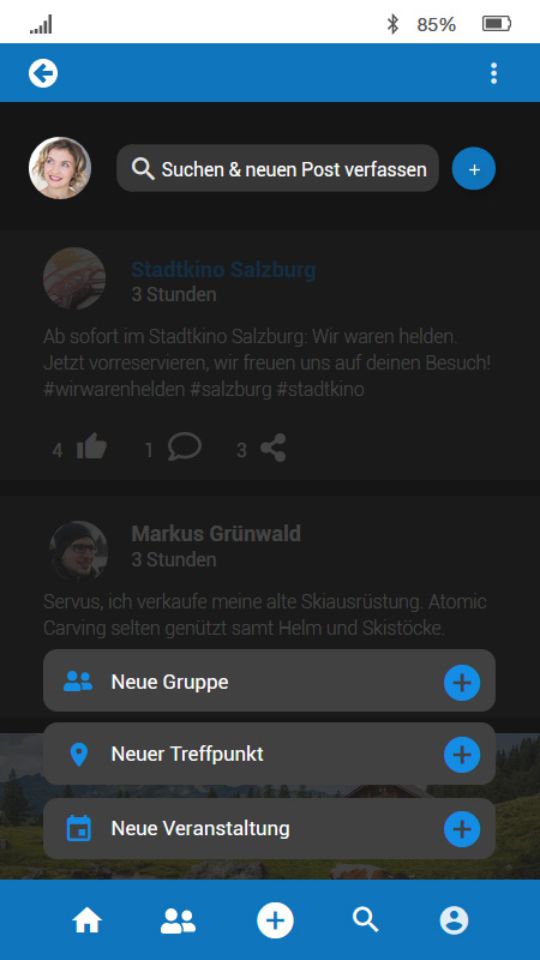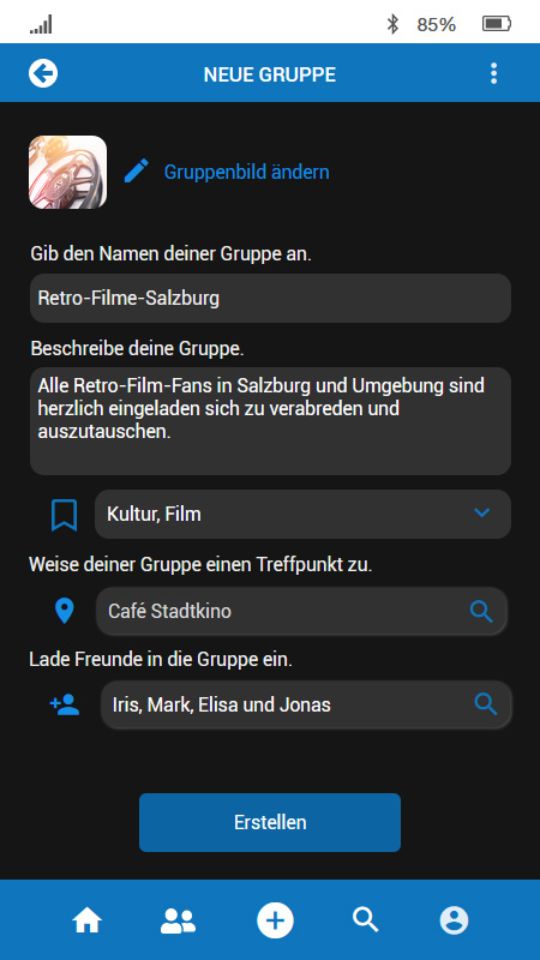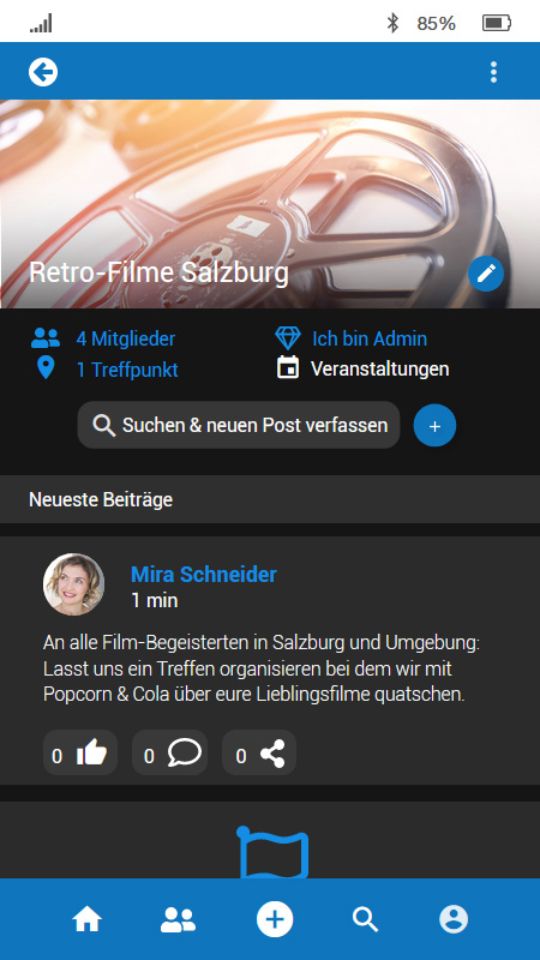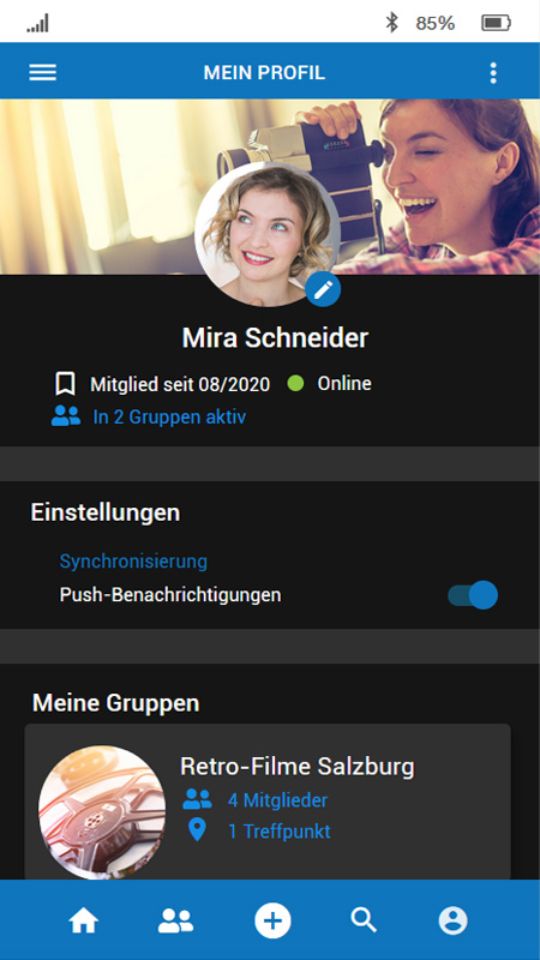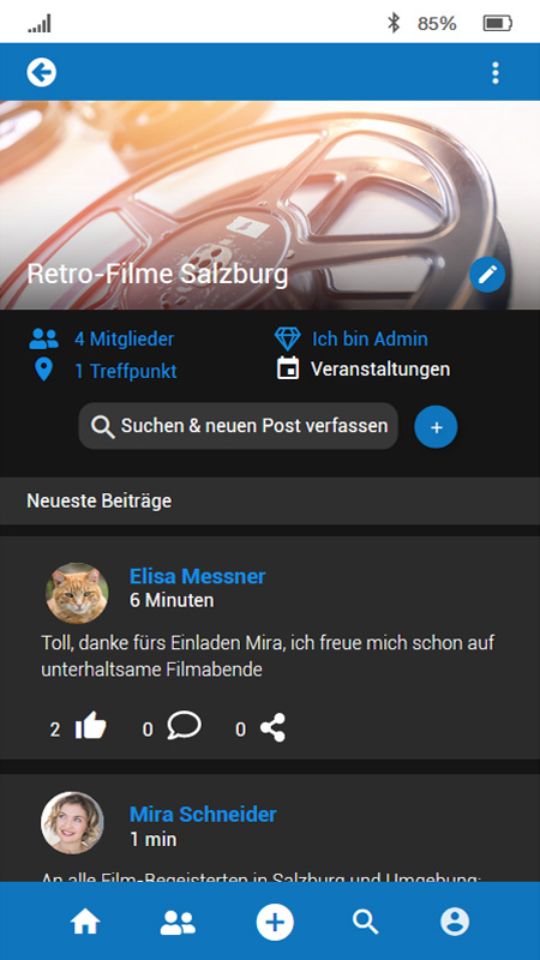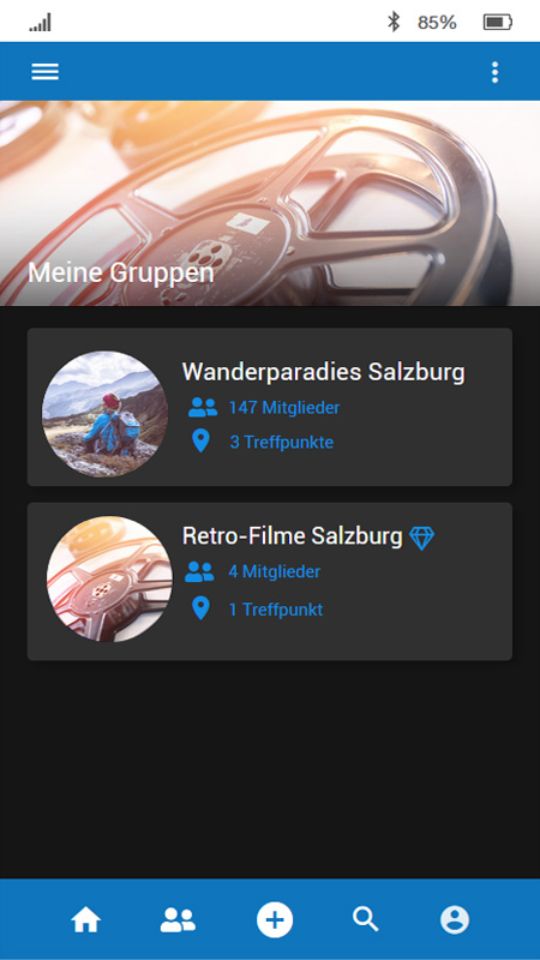 Are there any Open questions?
Is More information needed?
We would be happy to provide you additional information material or clarify open questions with the inventor for you. Simply contact us and we will be happy to support you.

Contact us

JMW INNOVATION GMBH

jmw Innovation GmbH has been successfully implementing and marketing ideas at two locations (Salzburg/ Berlin) for over 20 years. Thanks to our many years of networking, our passion for new ideas and our experienced employees, we are THE first point of contact for new ideas in the German-speaking world.

Website
www.erfinderberatung.com
© 2022 All rights reserved.